Where are we going?
We start off in New York. Then we fly to Ecuador and travel overland via Peru and Bolivia to Chile. From Chile we cross over the Pacific Ocean via Easter Island and Tahiti to New Zealand.
Sydney is next and we leave Australia from Darwin to end up in Singapore. We continue overland to Bangkok and finally return to London.


What are we doing?
We plan to learn Spanish in Ecuador. Apart from that we'll follow the backpacker's trail and visit all the main sites.

Enjoy,

Luk Depret and Hilary Jennings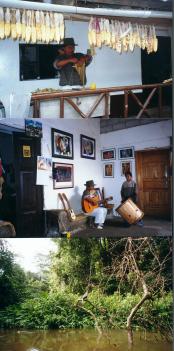 Otavalo musicians.
Jungle bird in Ecuador.